Winter means that ski season is in full swing. Do you want to learn to ski or board this year, but don't know what ski outfit will be best? Equipment and the right clothing for the slopes are extremely important things to consider when preparing for the slopes. While you can rent skis, board, poles, helmet or ski boots at a point near the slope, the rest of the equipment must be purchased in advance.
A comfortable ski outfit is a prerequisite for enjoyable and safe skiing. It is worth investing in good quality clothes, which will be waterproof and protect us from low temperatures and moisture. It's good to choose your ski outfit thoughtfully, because it is usually a purchase that serves us for years. It's a good idea to choose a ski outfit thoughtfully, because it's usually a purchase that will last for years
How best to dress for skiing?
The best thing you can do for your ski outfit during the winter is to protect yourself from the cold, wind and snow. Even though we will be warm during the descent and physical effort, we must remember that our time on the slope is also spent waiting for the ski lift. The set we choose should be comfortable and not restrict our movements. It is also important that the ski sportswear is waterproof, heat-insulating and breathable. The most popular ski or board set is an appropriate jacket, pants and other accessories, which protect us from the weather conditions. In most cases it will be gloves, a hat and a sports chimney. Do not forget the protective elements of a helmet and ski goggles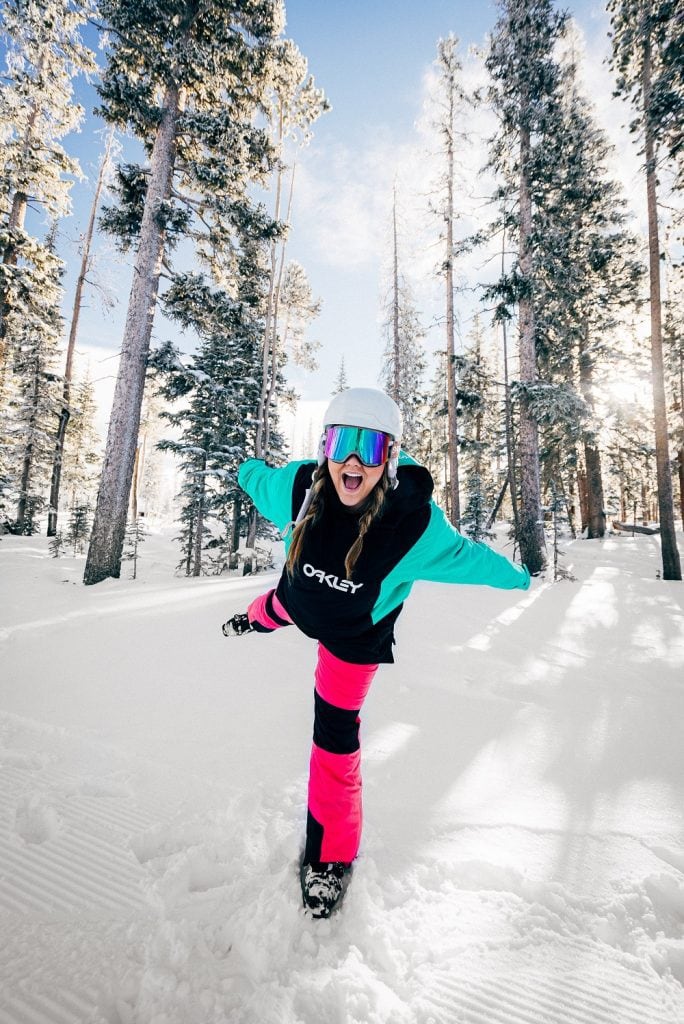 What to wear under a ski jacket?
In addition to your ski jacket and pants, the clothing you put underneath is also important. A great way to maintain the right body temperature is to put on thermo-active underwear, which is designed to wick moisture away and ensure proper thermoregulation. We should not forget about ski socks, which provide feet protection against the cold and at the same time do not restrict movement
It is the first layer, which we put directly on the body. In sports stores you can find many sets of thermoactive underwear, designed for women and for men. These are usually seamless, close-fitting leggings and a long-sleeved T-shirt. The next layer are clothes, which are to warm up our body. For this purpose, it is worth putting on a fleece, sweatshirt or sweater over the thermoactive underwear. Some people put also additional pants, which store the heat of our body. To such a set we should also put accessories – caps, gloves and some element protecting the neck against wind and cold
What should you consider when buying ski clothes?
Clothes for skiing or boarding should be chosen according to our needs. The first jacket and ski pants and other elements of clothing for the slope should be purchased in a professional sports store. In this way we can use the help of a qualified salesman, who will help us choose the right clothing and complete the necessary accessories such as helmet or goggles. What to pay attention to when looking for a jacket and pants for skiing or snowboarding?
Ski clothing should be made of breathable materials.
Skiing or boarding is quite a strenuous sport that requires a lot of effort, so the clothing should be made of high quality, breathable materials. Ski jackets made of Gore-Tex, SympaTex, Hydrotex are worth considering. It is good if the jacket is equipped with detachable vents, which ensure proper ventilation
It is important that the jacket and ski pants are waterproof
It's worth knowing that waterproofness of clothes is measured in the height of water column, which the material will not let inside. For a ski outfit, this value should be between 5000 and 10,000 mm of water column
A ski jacket should be long enough to reach below the buttock line
Jacket length and cut are often chosen according to individual preference, but a practical ski jacket should fit well and be long enough
Details make the difference, i.e. additional elements of a ski outfit
In addition to the aforementioned aspects, details are also important, which determine whether the clothing will be functional and perform well on the slopes. An important element to pay attention to is the zipped pocket, which will serve as a place for your ski pass when you are using the slope. The jacket should have a covered hood, high collar and a snow apron.
Read also What shoes to buy when we plan to hike in the mountains in winter?
Main Photo: Аrtranq/ adobestock.com