The basis of holiday travel is a good suitcase, to which we can pack everything we need. So which one to buy to fulfill its purpose?
People love to travel, and many people have realized this especially now, when because of Covid19 moving is prohibited. Nowadays, thanks to cheap airlines, a foreign trip does not have to be expensive at all. Sometimes all it takes is a few dozen zlotys to get to a European city hundreds of kilometers away. Each such trip is accompanied by a suitcase, which is available in many stores. So what should you consider while shopping in order not to regret it?
1. Suitcase dimensions
The first thing we should think about before buying a suitcase is its dimensions. We already know how much luggage we can take with us when buying a plane ticket. Taking too big or too heavy suitcase will result in additional (often considerable) charges. It is estimated that for an outing that will last 3-4 days a small suitcase with a capacity of 40 liters should be enough, for a week-long trip it is better to take a medium one (50-80 liters) and for a longer trip a large one (80-120 liters).
If you take only hand luggage with you, you should check what dimensions are allowed by a particular airline – e.g. LOT allows you to take a suitcase of the size 40×35×12 cm, Wizzair allows 55×40×20 cm, Ryanair allows 35×20×20 cm
2. The material from which the suitcase is made
A suitcase's primary purpose is to be durable and protect its contents. Therefore, the material from which it is made is crucial. ABS (Acrylonitrile Butadiene Styrene) suitcases are very popular, because they are light, scratch-resistant, waterproof and quite easy to clean. They are also rigid, so unfortunately there are dents under pressure
A better, but also more expensive solution are suitcases made of polycarbonate or polypropylene, because they are not only lightweight and durable, but also flexible
3. Weight
Some suitcases are quite heavy on their own, and yet luggage often has a weight limit. Therefore, the best models will be the light ones, which are not only more manageable, but also you can pack more in them. The weight of a suitcase largely depends on the material from which it is made
4. Wheels
When buying a suitcase, you should also pay attention to its wheels. They should be made of rubber and not plastic. Ideally, they should be mounted on a movable bearing, allowing you to change the direction of movement, then it will be easier to maneuver it. There are suitcases with two or four wheels. The latter allow you to drive the suitcase "standing up"
5. Good and strong lock
A damaged lock on your suitcase? That's a disaster, especially when we're on vacation. That's why it's important that it's really sturdy and doesn't jam. You can also choose a combination lock, then you usually set a few-digit code and you don't need any padlock.
Nowadays, a combination lock is in almost every suitcase. However, you need to remember to set a code that you will certainly not forget.
6. Pockets inside
The interior of the suitcase is also important. There should be an additional pocket where you can put various small items, e.g. cosmetics, books etc. An additional zippered compartment is also a good option, so that things do not move around, even if the suitcase is not filled to the brim. It is also useful to have an additional strap, with which you can fasten the contents of your luggage
7. Design
Once almost everyone had identical suitcases, nowadays the usual "grayish" luggage is a thing of the past. Nowadays, you can choose such a model, which has an interesting design and allows you to emphasize your individual style and stand out from others.
Such luggage is also easier to keep track of and find among other suitcases. Besides, choosing the one we like will make travelling more pleasant!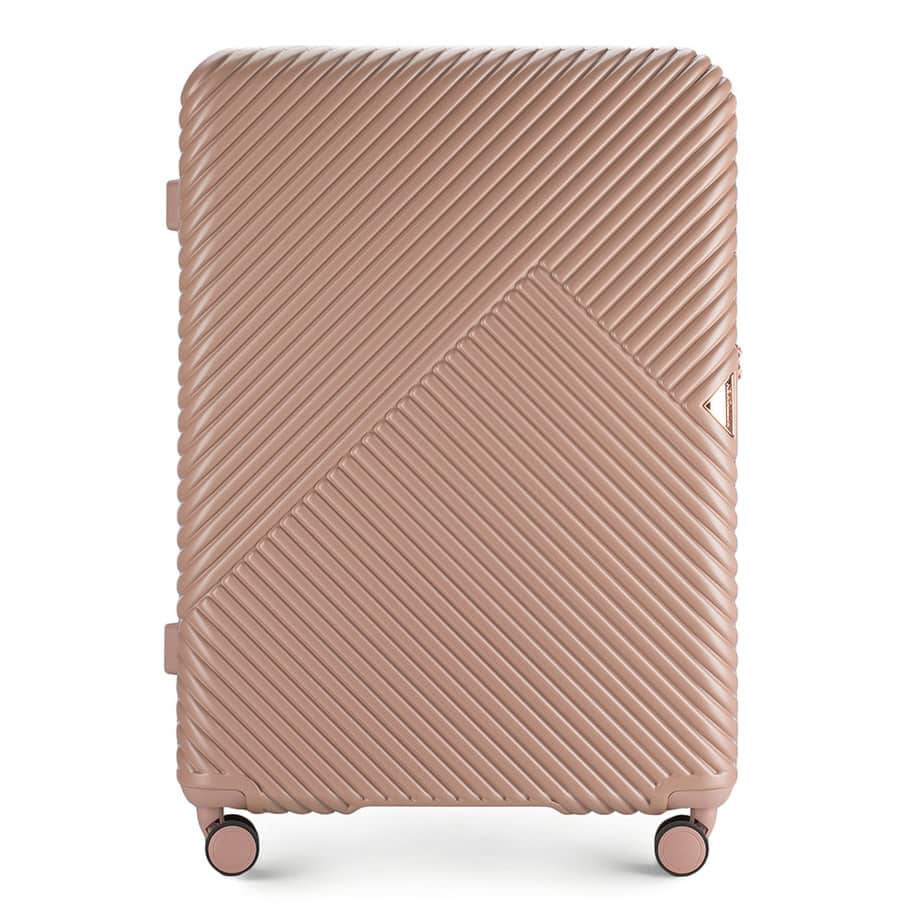 Read also Packing a suitcase is giving you sleepless nights? Check out these 5 tricks that will make your task easier
Main Photo: Zarya Maxim/ adobestock.com