Capacity, weight, size, carrying system, ventilation, pockets, cover – these are the main things you need to think about before buying a backpack.
At the very beginning, you need to decide what you need the backpack for. Is it for a mountain expedition, or maybe for a tent at the lake or a tour across the country? Will it be used for one day or maybe for two weeks? You should also consider whether it will be your only piece of luggage or maybe just an addition to your suitcase
The advantage of a backpack, whether big or small, is the convenience of travelling. You can hide really many things in it. Moreover, we have two hands free, we do not have to drag anything behind us. Stairs, bumpy roads and stones are no longer a problem with a backpack. It is also a functional solution – you can pack various things into individual compartments.
We explain what to consider when choosing a backpack.
Capacity and weight
The capacity of a backpack is obviously of great importance. In this case, you need to predict how many things you will have to pack, more or less.
The second issue is how much we are able to carry. It may turn out that a huge backpack is too heavy for us and we are not able to walk a few hours with it
It is also worth remembering that a capacious backpack does not have to be bigger and, what is important, we pack as few things as possible. So the whole equipment should be carefully thought out
Carrying system and ventilation
It is better if your backpack does not stick out over your head. There is a reason why you can find men's and women's backpacks. It is not a marketing ploy, but a real difference – the hip belt will be wider and the shoulders will be shaped differently, adjusted to a woman's figure.
Special attention should also be paid to the carrying system of the backpack, which should be fully adjustable, so that you can adjust it to your body shape. Then, undoubtedly, the comfort of use increases. In addition, the hip belt should not be located in line with the navel – then it will not relieve any pressure on the spine or shoulders
We also cannot forget about ventilation. Air circulation is very important. Special mesh and sponge will prevent excessive sweating. Smaller backpacks often have a frame profiled in such a way that it does not stick to the back. A similar function is performed by the mentioned sponge, placed in critical places
Pockets and compartments
Every backpack should be durable and have solid zippers and seams. Nobody would like the material to tear or crack during a hike or mountain expedition. It is also worth choosing waterproof fabrics, which will not allow moisture to get inside. Durable and strong nylon is often used here.
A good backpack should also be practical and comfortable. Depending on the situation, sometimes it is better to have one large pocket, and other times more smaller ones, dedicated for e.g. a laptop, glasses and water (the so-called reservoir, which can be reached without taking the backpack off thanks to a tube with a mouthpiece).
Also useful are hip belt pockets – perfect for your phone, wallet and documents – and zippers in the front or on the sides, so you can easily get to the things resting on the bottom.
Additional equipment
A hiking backpack is often sold with a protective rain cover or travel cover, and if it's not, it's worth buying one.
You can also equip your backpack with additional accessories to attach it to your waist belt or in a chimney, which will increase the capacity of your backpack by over a dozen liters.
We should also be able to attach a carrimat, a tent, an axe or trekking poles. Trockets are also useful for reducing the size of the backpack, when it is not filled to the brim.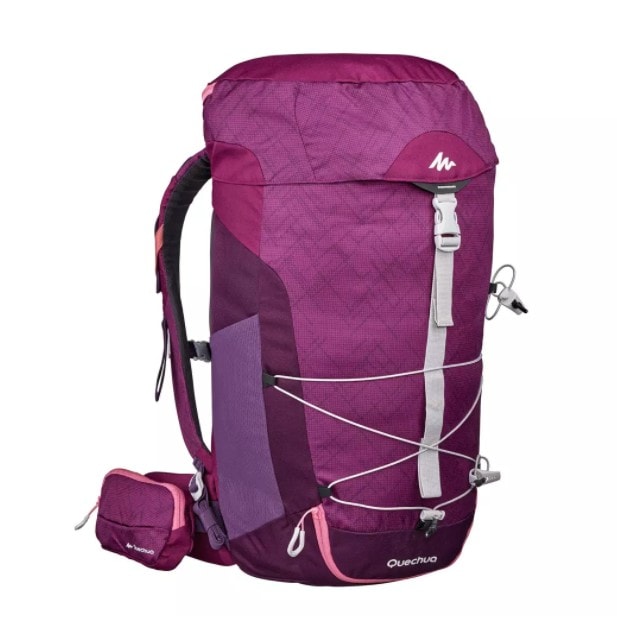 Read also: The best masks you can treat your skin before and after air travel
Main Photo: Ibrahim Rifath/ unsplash.com