When the weather gets warm – many people decide to exercise outdoors. In the past, cycling was king, and in recent years rollerblading has become more and more popular – no wonder, they have many advantages!
In spring and summer we like to do sports outdoors. It is a great opportunity to get some fresh air, improve your condition and have a good time. For years cycling has been extremely popular, but recently we have noticed more and more roller-skating enthusiasts. No wonder, according to some people nothing is as relaxing as "eight wheels". And what's more, so called shoes with wheels are much cheaper than a bicycle and you don't have to have much space to keep them
Rollerskates not only for the youngest!
It used to be common belief that mainly children ride on roller skates. This is a mistake! Well, this sport is an excellent option for anyone who likes to move, and at the same time does not want (or can not) strain the joints. Besides, riding on eight wheels brings amazing effects
Adults, who often don't know how to start riding, can look for places to learn in their cities. Often in the summer, you can learn at places that have ice rinks in the winter. In the so-called roller skating centers, you can usually rent not only roller skates, but also inline skates, and to use the help of an instructor who will teach you the basics of the sport
Ideal for burning fat
Roller skating is a great option for people who want to lose weight. Thanks to such training muscles use energy which is created during burning fatty acids released in the process of lipolysis from adipose tissue. To start this process in our body we need about 35 minutes of riding at a moderate pace. Experts estimate that you can burn from 300 to 700 calories per hour (this depends on the pace of the ride, the individual predisposition of the rider and the body weight)
Improving condition, balance and coordination
Roller skating also improves condition and endurance. Especially when we ride fast and in difficult conditions (e.g. uphill) – then the heart pumps blood more strongly and our organism is much better oxygenated, thus increasing its efficiency. If we regularly use the so-called eight wheels, we will certainly notice that we keep our balance better. And this in turn can undoubtedly translate positively into practicing many other physical activities. The motor coordination is also better (that is, the interaction of muscles and the nervous system), thanks to which we can master many activities more easily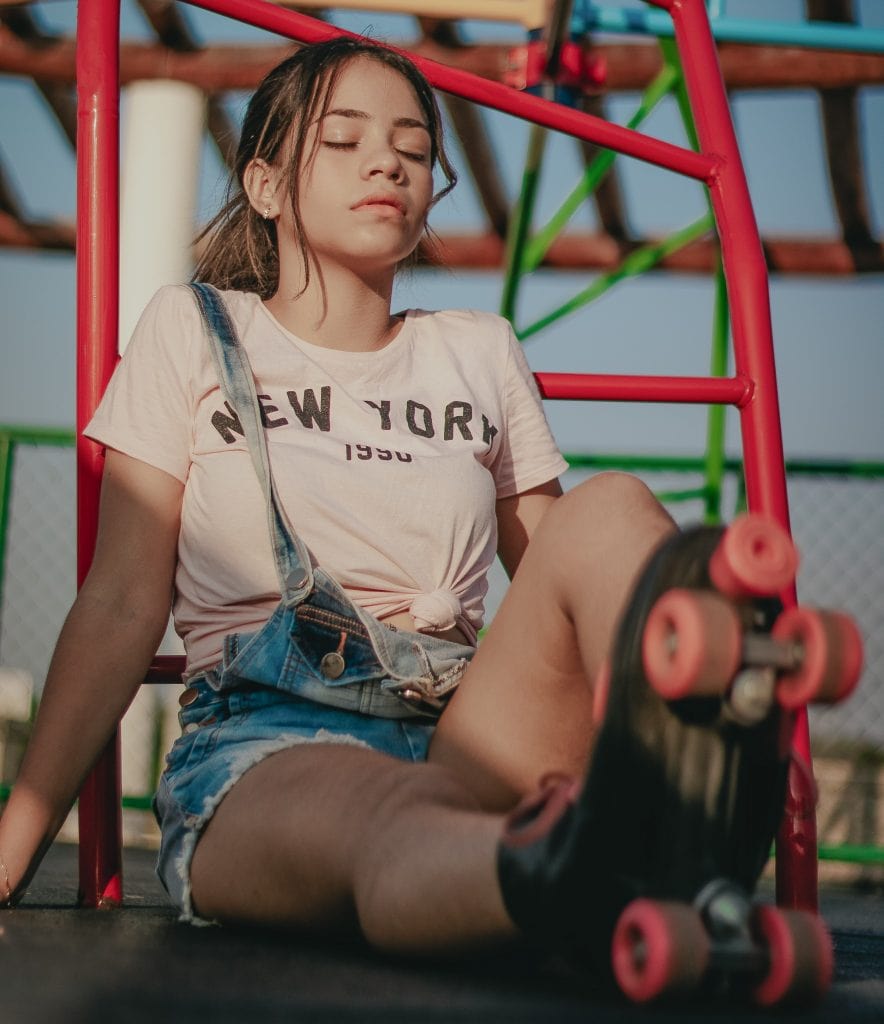 Healthier joints and stronger muscles
Rollerblades have the same effect as running, although they don't put as much stress on the knee or ankle joints as typical jogging. When we ride, we don't hit the ground directly with our feet, so we save our joints
Riding on eight wheels engages all the muscles of the buttocks, abdomen and back. This makes them much stronger. It also improves skin tone and circulation on the buttocks, thighs and abdomen. The skin in these areas is firmer and any cellulite is reduced (or disappears completely!)
Opportunity to be outdoors
Any activity outdoors has many benefits. Our mood improves (especially when the weather is nice). The sun increases the production of vitamin D, so we have stronger bones and are more resistant to colds. Fresh air also makes our brain work better and more efficiently, and it is easier for us to concentrate later
You can skate with someone or by yourself
The advantage of roller skating is that you can ride alone or with someone – depending on your desire and mood. So too, this sport can be a great opportunity to spend active time with friends or a time when we can calm down.
Read also: Three online workouts that will help you get a bikini body and have a lot of fun
Main photo: Laura Stanley/ pexels.com